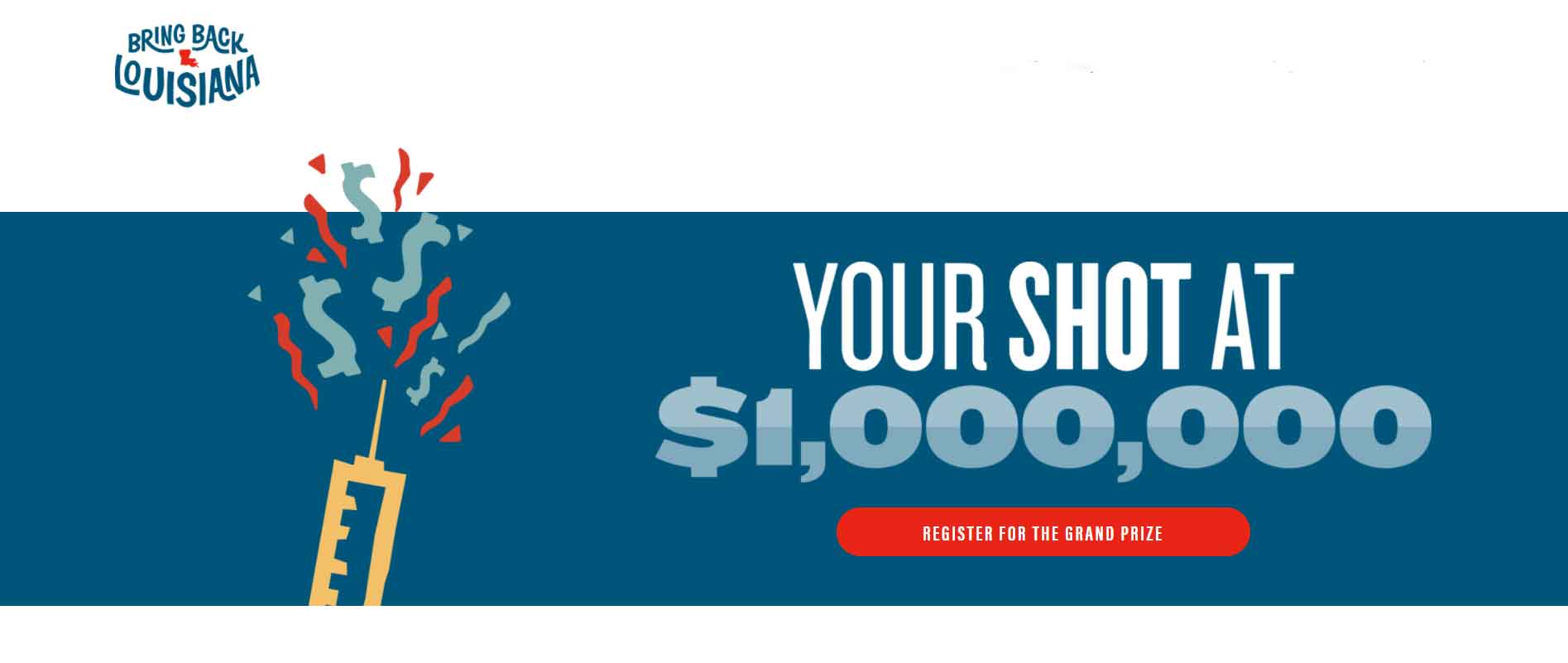 Chance To Win $1,000,000, Other Prize Money & Scholarships for Louisiana COVID Vaccinated
The Louisiana vaccine lottery is to improve the vaccinate rate from 33%
The lottery provides for chances to win weekly scholarships and money prizes to those Louisiana residents who get vaccinated;
Vaccinated Louisiana residents can register for the prizes by calling 877-356-1511 or online at shotamillion.com
If you want to get vaccinated to become eligible for the lottery, call 855-4536-0774.
Why the Louisiana vaccine lottery?
Compared to the national vaccination rate of about 65%, Louisiana is far behind with a 33% vaccination rate.  The vaccination uptake is low because of mistrust in government.  With the Delta Variant that originated in India, there is reason for concern.  The Delta variant is more transmissible and makes the unvaccinated sicker and the variant spreads more quickly.   Louisiana hopes to defeat the virus in the state by increasing the vaccination rate through financial incentives- a vaccine lottery.
Need help entering the vaccine lottery for a chance to win money and scholarships?
The Louisiana Department of Health is offering to Louisiana residents:
ages 18+ who have chosen to receive at least one dose of the COVID-19 vaccine

the chance to win $100,000 every Friday for four weeks starting July 9th and 
a grand prize of $1,000,000 on Friday August 13th 
ages 12-17 who have gotten at least one dose of the vaccine are eligible to win one of nine $100,000 scholarships awarded weekly beginning July 9th
Registration for Louisiana's Shot at A Million lottery begins Monday, June 21, 2021 at noon CDT. Louisianans who have gotten the vaccine can register online at ShotAtAMillion.com. Residents who do not have access to the internet or who have questions can call the toll-free hotline at 877-356-1511 to register, starting Monday.
Need help getting a vaccine?
The three FDA-authorized COVID vaccines are very easy to find in Louisiana. People can call the vaccine hotline at 1-855-453-0774 between 8 a.m. to 8 p.m. Monday through Saturday and 12 p.m. to 8 p.m. on Sunday.
The vaccine hotline can answer vaccine questions, schedule appointments, help people find a vaccine provider or community event near them, and connect people to medical professionals.
The federal government also runs Vaccines.gov, which helps people locate vaccination locations near them.
People can also text their ZIP code to GETVAX (438829) in English, or VACUNA (822862) in Spanish, to get the contact information of three locations near them with available vaccines.
Resources:
https://gov.louisiana.gov/index.cfm/newsroom/detail/3216