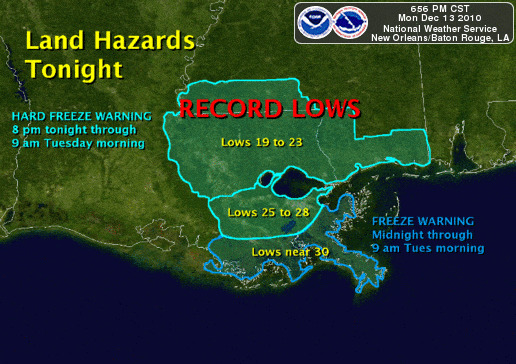 A hard freeze warning is in effect tonight and Tuesday morining with lows forcase to be in the upper teens to lower 20s in the New Orleans, Slidell, Lafayette, Baton Rouge, New Iberia and Lake Charles areas.
In the morning, if you open a faucet and no water comes out, call a plumber. If a water pipe bursts, turn off the water at the main shut-off valve; leave the faucet(s) open until repairs are completed.
After experiencing a burst pipe, contact your agent or insurance company to file a claim. An adjuster should contact you within a few days of filing your claim. If you do not hear from an adjuster, you can contact your insurance agent or company again. Make sure you have the following information handy:
•The name of your insurance company
•Your policy number
•A telephone and/or email address where you can be reached at all times
Separate damaged from undamaged property. Your adjuster will need evidence of the damage to your home and possessions to prepare your repair estimate.
•Take photographs of all of the damaged property, including discarded objects, structural damage,.
•Make a list of damaged or lost items and include their date of purchase, value, and receipts, if possible.
Your adjuster will provide you a Proof of Loss form–your official claim for damages. You'll need to file this claim with your insurance company within the time allowed by law. This document substantiates the insurance claim and may be required before the insurance company can make payment.