A recent opinion by the Louisiana First Circuit Court of Appeal reviewed a case involving negligence claims against a company that performs drug testing for companies. The court in this case applied a duty-risk analysis to determine whether the plaintiff had met his burden of showing the defendants' negligence.  The lower court had granted the defendants' motion for summary judgment, but since there remained a genuine issue of material fact regarding one of the negligence elements, the appellate court reversed the lower court's order.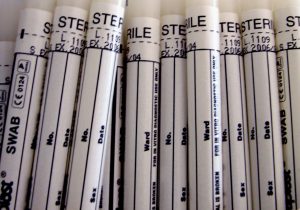 Plaintiff Corey Williams brought a negligence claim against Gulf Coast Occupational Medicine, Inc. (Gulf Coast).  Gulf Coast is a company that collects routine drug test samples.  Mr. Williams' employer, Starcon International, had hired Gulf Coast to perform a routine drug test sample of Mr. Williams. At the time of the drug test at issue, Mr. Williams worked as a trained mechanic for various oil and chemical refineries.  He had been employed by Starcon for approximately 11 years.
On October 17, 2011, Mr. Williams and other Starcon employees underwent a routine drug screening before beginning a new mechanical job at a refinery in Kentucky.  The employees were sent to a Gulf Coast collection site for the drug screening to submit samples to be tested.  The testing included a breathalyzer test, a urine screening, and a hair sample.  The samples were then packaged and sent to laboratories of  Psychemedics Corporation, a testing facility in California.
The hair sample for Mr. Williams resulted in a positive finding for cocaine and cocaine metabolites. This confirmed positive test was then sent by Psychemedics to Drugtest, Inc., doing business as DISA, Inc., where it went on record for Mr. Williams. Mr. Williams received a phone call from DISA, notifying him of the results of his hair sample. Mr. Williams denied ever having used cocaine.  Disa notified Starcon of the positive test result, and Mr. Williams' employment with Starcon was terminated. Mr. Williams contends that the positive test result caused his termination and prevented him from obtaining work in his field.
Mr. Williams filed a petition for damages against Gulf Coast on the grounds that they breached their duty to ensure the integrity of the hair sample collected from his forearm by failing to make sure it was properly collected and not contaminated.  Mr. Williams filed claims against Psychemedics and DISA, but the court dismissed those claims.
Gulf Coast moved for summary judgment, and after a hearing, the district court granted their motion and dismissed Mr. Williams' claims with prejudice.  Mr. Williams filed a motion for a new trial, which was denied.  He then appealed the summary judgment granted in favor of Gulf Coast.
On appeal, Mr. Williams argued there remained a genuine issue of material fact, and summary judgment was improper.  He contended that the issue was whether the hair sample collected on October 17, 2011 can be forensically tied to him.
Under Louisiana law, the court stated that a duty-risk analysis determines whether liability can be imposed under negligence principles.  The plaintiff is required to show the defendant had a duty to conform his conduct to a set standard and failed to do so.  The defendant's conduct must be the cause of the plaintiff's injuries, and there must be actual damages.  Here, the court stated that Mr. Williams' negligence claims centered on the manner in which his drug sample was taken from him and the failure to maintain the sample and the integrity of the test.
On a summary judgment motion, the burden of proof is on the moving party.  The moving party points out that there is an absence of factual support for one or more elements central to the adverse party's claim.  The judge is not to weigh the evidence but to determine whether there is a genuine issue of triable fact. A genuine issue is one about which reasonable people could disagree.
At trial, Gulf Coast moved for summary judgment. The appellate court stated that the burden falls on Mr. Williams to prove all the elements of a negligence claim. Gulf Coast need only point out the absence of factual support for one or more elements of the case.
The appellate court stated that Gulf Coast failed to meet its initial burden of showing the lack of factual support for an element of Mr. Williams' action. There remained a genuine issue of material fact regarding whether the hair sample taken from Mr. Williams was collected in a manner that maintained the integrity of the sample, ensuring it was in fact his hair.
In support of their motion for summary judgment, Gulf Coast introduced and relied on Mr. Williams' deposition testimony.  The appellate court reviewed the testimony and stated that it held a sufficient factual basis for showing that the submission of a hair sample of another person, other than Mr. Williams, may have taken place during the collection process. Specifically, the court reviewed Mr. Williams' account of the manner in which his forearm was shaved with an open razor, and the hair collected and dropped into an envelope.
The appellate court concluded by stating that Gulf Coast had not met its burden of demonstrating that Mr. Williams lacked evidence to support his claim that the sample may have been compromised because it was negligently collected.  The court stated a genuine issue of material fact remains as to whether the hair sample can be forensically tied to Mr. Williams.
At Lavis Law, our personal injury attorneys represent injured individuals in their claims for compensation following an accident.  Our office provides a free, confidential consultation and can be reached by calling 866.558.9151.
More Blog Posts:
Louisiana Court Holds that Injured Employee Met Burden of Proving Inability to Earn 90% of Pre-Injury Wages, Louisiana Injury Lawyer Blog, December 17, 2015
Louisiana Court Affirms Finding of Injured Employee's Credibility, Entitlement to Supplemental Earnings Benefits, Louisiana Injury Lawyer Blog,  November 30, 2015