In a case before the Louisiana Fifth Circuit Court of Appeal, the court addressed whether an employee was disabled due to occupational exposure to chemicals.  At issue was the credibility of the expert witness' testimony, and the burden of proof to demonstrate a disability under the Louisiana Workers' Compensation Law.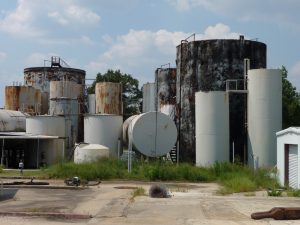 In this case, David Allensworth filed a disputed claim for workers' compensation benefits against the defendants, his former employers, Gulf South Systems, LLC, and Grand Isle Shipyard, Inc. He alleged that his diagnosed non-Hodgkin's lymphoma resulted from exposure to chemicals while working for his employers, cleaning storage tanks.
The workers' compensation judge ruled in favor of Gulf Systems and Grand Isle, finding that Mr. Allensworth failed to meet the required burden of proving his non-Hodgkin's lymphoma was caused by his exposure to diesel, crude oil, and gasoline. The judge also found that Mr. Allensworth failed to prove he was disabled as a result of occupational exposure to benzene cleaning tanks containing these chemicals.
The court stated that a claimant in a workers' compensation action based on an occupational disease must show by a preponderance of the evidence that there is a disability related to the employment-related disease. The claimant must have sustained an occupational injury or illness resulting from causes and conditions "characteristic of and peculiar to" his particular occupation. This proof need not be an absolute certainty. A reasonable probability is sufficient. The next step is for the employee to establish that the injury is disabling.
Expert testimony must establish the existence of an occupational disease. An expert's opinion may be accepted or rejected by the trial judge. Unless the trial court abused its broad discretion, the trial court's decision regarding expert testimony may not be disturbed on appeal.
Here, the workers' compensation judge found that Mr. Allensworth failed to prove a causal relationship between his employment and his disease. The court reviewed the conclusion of Mr. Allensworth's oncology expert, Dr. Saux. Dr. Saux submitted an affidavit with his opinion, concluding that it was more probable than not and reasonably scientifically certain that the lymphoma was caused by toxic exposures to benzene-containing products.
The court also reviewed the testimony of Dr. Nassetta, the defendants' expert. He concluded that even if the level of exposure was known, which is not likely, his opinion is that benzene exposure cannot cause non- Hodgkin's lymphoma.  The trial court's decision to credit the testimony of the defendant's expert witness over the plaintiff's expert witness was not an abuse of her broad discretion.
The court also rejected Mr. Allensworth's assignment of error concerning the trial court's finding that he did not prove he is disabled. The law requires that a claimant show by clear and convincing evidence that he or she is unable to engage in employment. Objective medical evidence must be used to meet this burden.
Here, Mr. Allensworth testified that "health reasons" prevented his return to work. He also stated he suffers from headaches and nausea, as well as fatigue. The report issued by his oncologist noted that there is no evidence of non-Hodgkin's lymphoma. He is in remission. While Mr. Allensworth relied on the determination by the Social Security Administration that he was disabled, the court stated that at the time of the evaluation, Mr. Allensworth was being treated for his non-Hodgkin's lymphoma. The court also noted that doctors treating Mr. Allensworth have not stated that he cannot work. The court concluded that the workers' compensation judge was not manifestly erroneous in finding Mr. Allensworth did not prove his disability.
The appellate court also rejected Mr. Allensworth's allegations that he should have been awarded medical expenses and past indemnity benefits, as well as attorney's fees and penalties. Since the workers' compensation judge found he did not meet his burden of proving causation, it was proper not to award medical expenses, past indemnity benefits, or attorney's fees and penalties.
In conclusion, the court affirmed the workers' compensation judgment in favor of Gulf Systems and Grand Isle Shipyard.
At Lavis Law, our workers' compensation attorneys advocate on behalf of Louisiana residents who have suffered from job-related accidents and illnesses. Contact our office for a free consultation at 866-855-9151.
More Blog Posts:
Louisiana Appeals Court Holds Employee Had Not Suffered Work-Related Accident, Louisiana Job Injury Blog, October 21, 2015
Louisiana Court Holds Injections Deemed Medically Necessary Under Medical Guidelines, Louisiana Job Injury Blog, Louisiana Job Injury Blog, October 7, 2015