In an appeal before the Second Circuit Court of Appeal, the court addressed an insurance policy's definition of a temporary substitute vehicle.  Many policies include terms and provisions restricting coverage.  Louisiana requires that these exclusions not conflict with statutory provisions and public policy. At issue in this case was whether the policy at issue did in fact violate the statutory purpose of providing coverage to insured individuals when they have a temporary, substitute vehicle.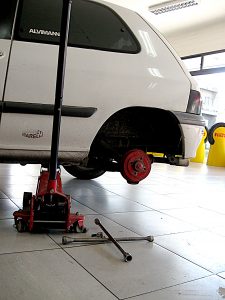 Shannon Boyd's car would not start one morning, so she left it parked and borrowed her friend Vicki Ellis' car to take her children to daycare and go to work. While she was driving, she rear-ended another car driven by Mr. and Mrs. Green.  Ms. Boyd and her own vehicle were insured by Safeway Insurance Company of Louisiana.  Ms. Ellis' car, involved in the accident, was insured by State Farm Mutual Automobile Insurance Company.
The Greens brought a lawsuit for damages suffered during the accident, and State Farm paid for damages.  State Farm then brought this lawsuit for reimbursement, seeking $4,041.77 from Safeway Insurance for property damage that was paid to the Greens.  State Farm alleged that Safeway, as the primary policy provider, was responsible for coverage for the accident.
The trial court held that Safeway Insurance defined "temporary substitute automobile" in a manner that conflicted with Louisiana insurance law public policy.  Since the court found that the vehicle borrowed by Ms. Boyd was a "temporary substitute motor vehicle," Safeway was deemed the primary policy provider. Safeway Insurance appealed.
Safeway asserted that the trial court erred in their determination that Ms. Ellis' vehicle was a "temporary substitute automobile."  They also alleged that the court incorrectly determined Safeway's definition conflicted with the public policy of Louisiana law.
The issue is whether the definition of "temporary substitute automobile" violates Louisiana state law and public policy. The court stated that unless a statute says otherwise, insurance companies may limit liability, imposing conditions upon insureds. However, policy provisions that restrict statutorily mandated coverage will not be enforced.
Turning to Louisiana law related to temporary borrowed vehicles, the court stated that the lower court made clear the policy reasons for affording an insured person a continuation of their coverage when they are required to use another temporary vehicle. To restrict coverage, there must be a reasonable and rational relationship to this stated public policy rationale.
The court reviewed case law as well as minutes from the House Commerce Committee meeting in order to understand the legislative intent behind the statute for temporary substitute motor vehicle coverage. Coverage must extend to both rental vehicles and temporary substitute motor vehicles. The term "temporary" refers to a vehicle used for a limited time, as opposed to one used permanently. "Substitute" involves the replacement of one thing for another.
In this case, Ms. Boyd needed a temporary solution for her nonworking vehicle. She took her vehicle to a mechanic for repairs. The court stated that she "acted as a reasonable person" in borrowing a car to temporarily replace her own vehicle until it was fixed.  Here, Safeway could not reasonably require its insured to immediately deposit a nonworking vehicle in a mechanic shop before providing insurance coverage for a replacement.  This places burdens on the insured in terms of time, logistics, and finances that are contrary to the intent of the legislature.  The policy definition set forth by Safeway unreasonably limits the statutory mandate and violates the legislative intent.
The provision does not cover vehicles in situations in which the owner cannot have the vehicle repaired at that time, or an owner who prefers to perform repairs himself.
The court concluded that the trial court properly granted judgment in favor of State Farm Automobile Insurance Company. The definition of "temporary substitute automobile" violated Louisiana law.
At Lavis Law, we have years of experience negotiating and litigating automobile insurance cases.  We provide a free consultation and can be reached by calling 866.558.9151.
More Blog Posts:
Louisiana Court Affirms Judgment in Favor of Car Accident Victim Receiving Maximum Coverage From Insurance Company, Louisiana Insurance Lawyer Blog, November 25, 2015
Louisiana Appeals Court Affirms Insurance Company Has No Responsibility to Provide "Blanket Coverage" for all Vehicles, Louisiana Insurance Lawyer Blog, June 25, 2015