Is Day of the Dead Just a Latin Halloween? (No!)
If you've raised an eyebrow at your local grocery store sprouting a Christmas aisle before Halloween, you're in good company. In our world, the commercial and the sacred do often collide. We've come to accept it. But the commercial doesn't always hurt.

Take Día de los Muertos (Day of the Dead). The Day of the Dead sometimes gets a bad rap as a sort of secondary, Latin Halloween. It falls on the first and second of November, deals in images of death, and is even known somewhat for its candy, the iconic sugar skull.

Also like Halloween, the Day of the Dead has given birth to commercial trends that, in turn, reinforce the popularity of the holiday. For example, after the release of Disney & Pixar's Coco, families who hadn't celebrated Día de Los Muertos in generations began to reclaim the holiday.
The Catholic Church started co-opting pagan holidays as far back as 600 BC. Around 800 BC the Church first designated November 1 as "All Saints" or "All Hallows" Day. Soon after, the 31st became adopted as "All Hallows Eve".

Similar to Halloween, Día de Los Muertos as we know it started at the intersection of cultures. As Catholic Spain colonized what is now Central Mexico, All Saints Day (November 1) and All Souls Day (November 2) collided with Aztec traditions honoring the dead. Families would offer ancestors food, candy, music, and trinkets for their day back on Earth.
Today, Day of the Dead is celebrated in Latin communities all over the Americas. Families honor children who have passed away on the first, and adults on the second. Part of honoring the dead includes creating altars called "ofrendas" with pictures of the deceased and artifacts from their lives.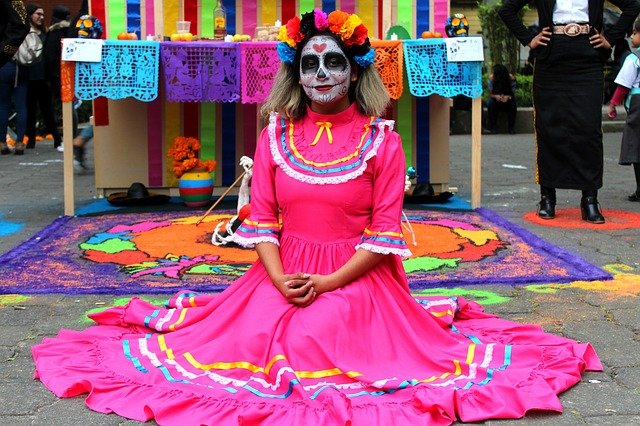 In many Mexican communities especially, Día de Los Muertos is festive, not sombre. It's seen as a time to celebrate and honor those who have passed and make them feel welcome. There are parades in many cities. In Mexico, whole cemeteries become vibrant places where families wash the headstones of their ancestors and cover them with marigolds while mariachis play.

At least in movies, Halloween has largely become a symbol of the human fear of death. On the other hand, Day of the Dead acknowledges the naturalness of death as a part of life and asks people to make peace with that while they connect with their families and their pasts.