Geovera Specialty Insurance Company
2020 (80)
2019 (8)
2018 (10)
2017 (6)
2016 (5)
2015 (2)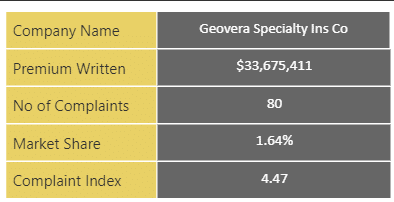 Geovera Specialty Insurance Company offers surplus lines residential insurance through wholesale broker partners in Louisiana and other Southern States.
In 2020, surge of 80 complaints were filed against Geovera Specialty Insurance Company with the Louisiana Insurance Commissioner and in 2019, 8 complaints were filed. These complaints were primarily due to the active 2020 Hurricane Season.
If you are involved in a Hurricane Wind Damage, Fire or other insurance claim with Geovera Specialty Insurance Company and your claim has been denied or delayed, an experienced property damage insurance lawyer can ensure your rights are protected when filing an insurance claim for Structure, Other Structures, Loss of Use and Contents. We care about your best interests and stand in your corner.