2020 (55)
2019 (8)
2018 (12)
2017 (5)
2016 (20)
2015 (9)
Maison Insurance Company domiciled at 91000 Blubonnet Centre Blvd, Suite 101 in Baton Rouge, Louisiana and has a mailing address in Florida at 14050 NW 14th Street, Suite #180 Sunrise, FL 33323.   PHONE: (800) 293-2532,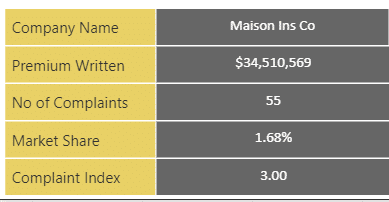 Maisoninsurance homes from $75,000 to $750,000 from Wind & Hail and fire damage
In 2020, Maison had 55 complaints filed against it with the Louisiana Insurance Commissioner. In 2019, 8 complaints were filed.  These complaints were primarily due to the active 2020 Hurricane Season.
If you are involved in a Hurricane Wind Damage, Fire or other insurance claim with Maison Insurance Company and your claim has been denied or delayed, an experienced property damage insurance lawyer can ensure your rights are protected when filing an insurance claim for Structure, Other Structures, Loss of Use, Debris Removal, Mold Coverage and Contents. We care about your best interests and stand in your corner.