Hurricane Laura Property Damage Insurance Claims Lawyer
On August 27, 2020, Hurricane Laura made landfall on the at Cameron Louisiana, just south of Lake Charles, Sulphur, Moss Bluff, and DeRidder with 150 m.p.h. winds, flash floods, and heavy rainfall. The storm caused deaths, injuries, property and infrastructure damage, economic loss, and human suffering to the coastal region. Private insurer losses from Hurricane Laura are estimated to be in the range of about $12 Billion.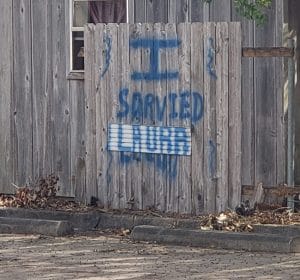 Unfortunately, now Hurricane Laura impacted homeowners and businesses are faced with the unpleasant task of dealing with insurance companies that are not accepting responsibility under the insurance policies they have both written and sold. Insurance companies are too often shortchanging policyholders by failing to pay enough money for the hurricane damages sustained. Sometimes these companies are even denying claims.
Do not accept slow service, excuses or denials of your claims.  Let 
The Louisiana Hurricane Law Firm
 assist you in preparing your insurance claim, with completing a sworn proof of loss for your claim, assembling your claim documentation, and monitoring the claims process. In those instances where your insurance company wants you to provide a recorded statement or examination under oath, we prepare you for the sworn statement and attend the statement with you. If a dispute should arise as to whether items are covered or as to the cost of repairs, experts can be hired to prove your damages.
Your insurance company is required to quickly and efficiently settle your claims and pay you for all of your damages covered by the policy. We can protect your rights to ensure you recover what you should rightfully recover under your windstorm and flood coverages. Your insurance policy may provide coverage for physical damage to and loss of property and extra expenses incurred.
If you have a Disaster Mortgage Protection insurance, we can help you with that insurance claim as well. Disaster Mortgage Protection pays your monthly mortgage, reimburses your structural deductible, and can help pay off your mortgage balance in the event of a hurricane, flood, or other disasters. The insurance usually applies to home or condo owners whose dwellings are deemed uninhabitable. Under certain policies, the mortgage balance is paid off if the land is condemned.
We will fight hard on your behalf. As part of our commitment to our clients, we always try to respond as quickly and carefully as possible to your legal needs. We temper the speed of our service with the need to be thorough. We don't want just to take care of your legal needs quickly, we want to take care of them correctly. We promise to try to get you the results you need and deserve. This can only be accomplished by having experienced, dedicated legal professionals on your side.
Many times people do not seek the guidance of an attorney for fear that doing so would be too expensive and complicated. we alleviate those fears right away. 
Your first consultation is always free.
 During that first meeting, you will find out whether your problem requires the assistance of an attorney and what we can do to help. Fees and costs are discussed upfront. There is no "guessing" as to what your fee might be for our services. When you enter our office you will know that we genuinely care about you and your legal concerns. If we can help you in any way, do not hesitate to 
contact us
.  The evaluation of your Hurricane  Laura insurance claim is free. There is 
no cost 
and 
no obligation
. Let us
get you the money you deserve.  submit your case evaluation today. If you prefer, you may contact us at 
504-834-4000
 or 
toll-free 1-866-558-9151
.