Harvey, LA Law Office : Lavis Law Firm
Why our law firm?
See why our clients love working with us.
"What I love about him is his Honesty and Integrity and how professional he handles his business".
"Mr. Lavis handles my worker's compensation case and is easy to contact when I need him. Very professional and always doing his best for me. I would highly recommend Mr. Lavis if you are in need of a great professional attorney".
"He's got great personality and is very helpful".
Harvey Personal Injury Lawyer Review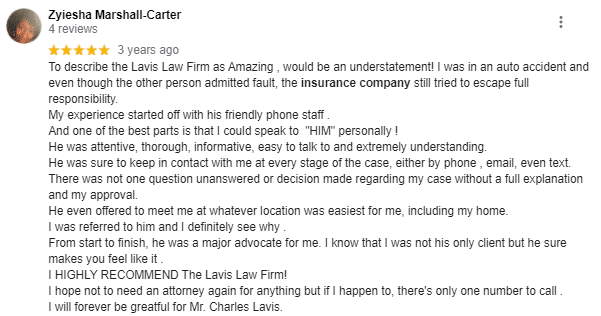 https://goo.gl/maps/rvuNnz2HasHwcLw2A
In addition to helping those injured in Westbank car accidents, Lavis Law Firm – Personal Injury & Accident Attorney has, over the years, helped workers injured while performing boat building, repair, and other maritime work along the Harvey Canal and Mississippi River.
The office is located on the Westbank, just south of the Mississippi River and east of Maritime and industrial work activity on Destrehan Ave, Harvey Canal, and Peters Road. The Lavis Law Firm – Personal Injury & Accident Attorney has its Westbank office located at Fountain Park at 1901 Manhattan Blvd. Bldg D, #111, Harvey, LA 70058. As you enter Fountain Park, the office building is the last one on the right just as you pass the Royal Palm event venue.
To discuss your case with an experienced injury attorney, schedule a free initial consultation by calling us today at
(504) 834-4000
.
What types of cases do we take?
Our law firm specializes in the following areas of law:
Car Accidents: If you need a car accident lawyer in Harvey, LA, our law firm can help.  Car accidents can often lead to serious harm, resulting in expensive medical treatment, time off work, and lost income. Pursuing damages from a negligent driver to recover these costs can be a beneficial option to help victims of car accidents.  We understand the legal nuances involved in auto accidents, and we have the experience and skill needed to advocate for your interests.  Contact us at our Harvey, LA office today.
Workers Compensation: We love working on job injury cases.  One of our customers shares:  "Charles Lavis Jr helped me out a couple of times with job injury cases. The insurance company tried to mess me over a couple of times and he successfully overcame the obstacles. He did a great job! I would strongly recommend him for any workers compensation case, auto accident case or any other type of problem you have with your insurance company".  Contact our workers' compensation attorney in Harvey today.
Insurance Claims: Facing an issue with your insurance claim?  If you need help with your Louisiana Bad Faith Insurance Claim,  our Harvey insurance attorney can help.  Be advised that you may be facing important legal deadlines, so don't delay!
Personal Injuries: Charles Lavis became a personal injury attorney in 1995 because he likes to help people like you.  If you were hurt on the job, involved in an auto accident, boating accident, construction accident, or otherwise suffered a loss because of a defective product, shoddy repair job, because you slipped and fell on a wet floor, or tripped and fell on pavement in a parking lot, it might be time to look for a personal injury attorney in Harvey, LA.
Share This on Social Medias