BEST Louisiana Slip & Fall Lawyer Near You
Slip and fall victims are typically injured in part because of the attention-drawing displays in stores and merchandise on the shelves. LA R.S. 9:2800.6 was enacted to cover the burden of proof for proving negligence in a slip and fall matter.
Louisiana Revised Statute 9:2800.6
LA R.S. 9:2800.6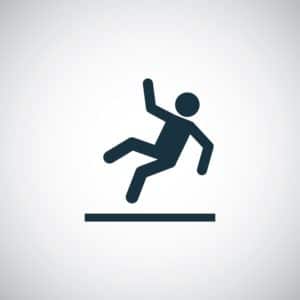 is applicable only to shops, restaurants, and lobby areas of or within a hotel, motel, or inn. It is not applicable to hospitals.
Generally, the statute requires the injured person must prove in addition to the other elements of his case all of the following:
The condition presented an unreasonable risk of harm to the claimant and that risk of harm was reasonably foreseeable;
The merchant either created or had actual or constructive notice of the condition which caused the damage, prior to the occurrence; and
The merchant failed to exercise reasonable care.
Owning and maintaining a property is a big responsibility. Anyone who fails to live up to this responsibility may put their visitors at risk and leave themselves open to a lawsuit such as a premise liability case.
In determining reasonable care, the absence of a written or verbal uniform cleanup or safety procedure is insufficient, alone, to prove failure to exercise reasonable care. Constructive notice means the injured person has proven that the condition existed for such a period of time that it would have been discovered if the merchant had exercised reasonable care. The presence of an employee of the merchant in the vicinity in which the condition exists does not, alone, constitute constructive notice, unless it is shown that the employee knew, or in the exercise of reasonable care should have known, of the condition.
Falling Merchandise Cases Under LA-R.S.9:2800.6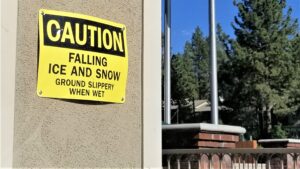 In a falling merchandise case, the injured customer must show:
the injured customer did not cause the merchandise to fall;
another customer in the aisle at that moment did not cause it to fall; and
the merchant's negligence was the cause of the accident.
When Should You Contact a Louisiana Slip and Fall Lawyer?
You might be wondering when you should contact a slip and fall lawyer in Louisiana if you or a loved one were involved in a slip and fall accident. It's a good idea not to wait too long, as time is not on your side when it comes to slip-and-fall injury claims. Louisiana has a one-year statute of limitations on injury claims. So, you only have a year from the date the accident occurred to file your claim. If you try to file your claim after a year has passed, the defendant's legal representation can argue that it's past the deadline for filing and will more than likely have your lawsuit dismissed. 
We can also help if you were injured in an electric scooter accident. 
What are the Typical Causes of Slip and Fall Injuries?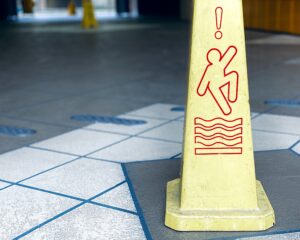 There are a few common causes behind most slip and fall injuries. These include:
Damaged driveways, such as cracks
Parking lots with damage, such as potholes
Damaged sidewalks, such as uneven sidewalks due to tree roots
Wet floors
Spills
Newly waxed or mopped floors without signage 
Loose floorboards
Damaged or bulging carpets
Tripping hazards
Clutter
Improperly built or maintained staircases
Unanchored rugs and mats
Keep in mind that the circumstances leading to your slip and fall injury may differ from the above examples. That's why speaking with a Louisiana slip and fall lawyer can be beneficial to determine if your claim should be pursued.
What are Common Injuries that are Caused by Slip and Fall Accidents?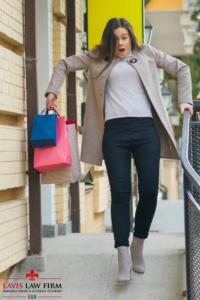 Slipping and falling may not seem like a serious accident, but slipping and falling can cause series injuries, especially slip & fall injuries to older adults. Some of the common injuries that these types of accidents can cause include the following:
Back injuries
Nervous system injuries
Neck injuries
Shoulder Injuries
Sprains
Muscle strains
Broken bones
Anyone can be seriously injured in a slip-and-fall accident, leading to expensive medical bills, recovery time, and, in some cases, the inability to work. The injuries you experience after your fall may differ from what someone else experiences. It's always a good idea to speak with an experienced slip-and-fall lawyer in Louisiana to see if you have a case. 
Why Should You Hire Lavis Law Firm?
If you need help with your Louisiana slip and fall, falling merchandise accident, contact the personal injury lawyers at Lavis Law Firm by calling 866-558-9151 or submit your online form. 
Having an experienced slip & fall lawyer near you on your side after your personal injury accident can be beneficial. Taking advantage of our free consultation allows you to speak with one of our slip & fall attorneys regarding your claim and our advice on how to handle it best. Contact us today to learn more about receiving a free case evaluation to start on the path toward filing a claim for the damages owed to you. We also offer free initial video consultations over Zoom, Skype, or Google Meets. Please keep in mind that you may be facing important legal deadlines.
Check Out What Clients Are Saying About Our Slip & Fall Accident Attorneys Near You in Louisiana
Awesome to work with. Was on top of everything and kept in touch throughout the entire process. I would definitely recommend. Was honest and fair. Worked extra hard and went beyond to get me the best results. Lakeitha Hooks on Google ⭐️⭐️⭐️⭐️⭐️
Highly Rated New Orleans Chiropractors
Allied Chiropractic & Wellness


110 Veterans Memorial Boulevard, Suite 130
Metairie, Louisiana 70005

Beyond Wellness


132 W. Harrison Ave.
New Orleans, Louisiana 70124

Dr. George Putnam Jr.


4902 Canal Street, Suite 305
New Orleans, Louisiana 70119

Gemini Chiropractic


1841 Rousseau Street
New Orleans, Louisiana 70130

Lakeview Regional Chiropractic


141 Harrison Ave
New Orleans, Louisiana 70124

Archer Chiropractic


4220 Canal Street
New Orleans, Louisiana 70119

New Orleans Chiropractic


7605 Maple Street
New Orleans, Louisiana 70118
We have no affiliation with these companies. They happen to be highly rated on Yelp and Google.