In a case before the Second Circuit,Court of Appeal, the court addressed whether an employee's use of his employer's car to pick up his girlfriend 35 miles from work was such a deviation from the scope of granted permission as to nullify the liability of his employer's car insurer.  The court looked to the insurance policy and upheld a finding of coverage, even though the employee had deviated from the granted scope of use.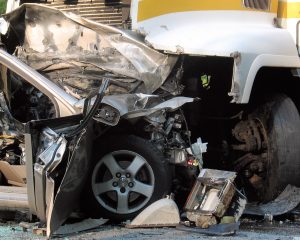 United Fire & Casualty Co. appealed a judgment holding that Lovell Ellis, the negligent driver, had permission to use his employer's truck. According to Raquel Coleman, Lovell Ellis'  passenger, she and Mr. Ellis met online and were romantically involved. On the evening of January 20, 2011, Mr. Ellis called Ms. Coleman, and they made plans for him to pick her up at work.  While driving a Water Works Irrigation truck, he rounded a curve and lost control of the truck.  The truck eventually flipped, landing on its side and injuring Ms. Coleman.
Ms. Coleman testified that she saw that Mr. Ellis was sending a text message on his cell phone while approaching the turn.  She testified that he had not been speeding but had not paid attention to the road.  Furthermore, Ms. Coleman testified that Mr. Ellis asked her to lie about the accident by stating that she and Mr. Ellis were "kinfolk."
The facts indicated Water Works' policy included a prohibition against assigning vehicles to be used for personal use. Mr. Ellis had signed this policy. Furthermore, Mr. Ellis lived within a mile of Water Works, was not assigned to jobs in the area in which he had been driving, and had not been authorized for the trip.
Ms. Coleman brought a lawsuit for personal injuries against Mr. Ellis, also naming Water Works and United Fire & Casualty as defendants.
The district court rejected Mr. Ellis' claim that he had been visiting a sick aunt and found him 100% at fault, awarding stipulated damages of $24,049.67 and general damages of $23,400. The court also found that Water Works had given Ellis permission to use the truck and that his actions did not amount to a theft of the vehicle.  Together, Mr. Ellis and United Fire were found liable for the full amount.  United Fire appealed.
United Fire argued that the court mistakenly found coverage, when the evidence showed that Mr. Ellis was not in the course and scope of his employment, nor did he have permission to be operating the truck at the time of the accident.
The appellate court stated that permissive use is a factual finding, subject to manifest error review.   United Fire contended that since express or implied permission was not proven, the court should have found no "initial permission."  Here, the appellate court looked to the insurance policy issued by United Fire to Water Works.
The rule is that coverage extends as long as the vehicle operator had permission to use the vehicle, even if the operator's deviation was in violation of specific instructions issued by the insured. If the deviation amounted to theft or other conduct displaying disregard for property, coverage is precluded.
Here, the court stated that Water Works gave Mr. Ellis permission when they handed him the truck and keys.  He was allowed to drive it to and from work, and while he may have deviated from the grant of permission by driving 35 miles out of his way, he did not intend to steal the vehicle or disregard its return.
The appellate court affirmed the judgment, holding United Fire jointly liable.
The personal injury attorneys at Lavis Law advocate on behalf of Louisiana car accident victims.  If you or a loved one has suffered injuries due to a negligent driver, contact our office for a free consultation. We can be reached by calling 866-558-9151 or using our online form.
More Blog Posts:
Louisiana Appellate Court Reverses Finding in Favor of Plaintiff Injured by Employee Regularly Using Work Vehicle, Louisiana Injury Lawyer Blog
Louisiana Appeals Court Reverses Award in Favor of Defendant, Finding that Both Parties were Equally at Fault in Intersection Collision, Louisiana Injury Lawyer Blog