In a case before the Louisiana First Circuit Court of Appeal, the court addressed whether an insurance company's exclusion of coverage violated public policy. Louisiana promotes uninsured/underinsured motorist coverage.  In this case, the policy excluded UM coverage for self-insured vehicles.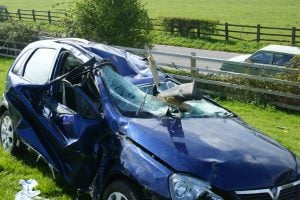 Terry Chauncy was injured in a vehicle collision in Washington Parish, at the intersection of Louisiana Highway 10 and Louisiana Highway 450.  The other vehicle involved in the collision was owned by the State Military Department, and it was driven by Private Patrick Allen, Jr.  Mr. Chauncy and his wife had vehicle liability coverage, including a UM policy issued by one of their insurance companies, Mountain Laurel. Due to his alleged injuries, Mr. Chauncy and his wife brought a lawsuit for damages against Mr. Allen, the State, and Mountain Laurel.
Mountain Laurel moved for summary judgment on the grounds that the policy they issued to the Chauncys excluded UM coverage for bodily injury claims when the defendant driver was driving a car owned and self-insured by the State. The vehicle, they argued, did not meet the definition of an "uninsured motor vehicle" under the policy.
The Chauncys argued that the UM policy exclusion for self-insured vehicles violated public policy. They also contended the State was not self-insured under Louisiana law. The trial court ruled in favor of Mountain Laurel on the summary judgment motion, and the Chauncys appealed.
The appellate court stated that when it is reviewing a summary judgment motion, the court must use the same criteria governing the trial court's consideration of whether granting the motion is appropriate. Summary judgment requires first that the moving party show an absence of support for one or more elements of the adverse party's claim. Then, the non-moving party must show that if sufficient factual support is established, it will be able to satisfy its evidentiary burden of proof at trial. Substantive law determines materiality in a summary judgment motion.
In terms of interpreting an insurance policy, the court stated this is a legal question that can be resolved through summary judgment.  Words are to be construed in their general meaning, and when the language is clear, a reasonable interpretation with obvious meaning is given. Since an insurance policy is a contract between parties, it should be construed using general rules of the interpretation of contracts.
Here, the court stated the UM policy provision provided that Mountain Laurel would cover bodily injury damages for an insured legally entitled to recover from an owner/operator of an "uninsured motor vehicle."  An uninsured motor vehicle is a vehicle to which no injury liability policy applies at the time of the accident.  The policy also had an exclusion stating that an uninsured motor vehicle does not include a vehicle owned or operated by a self-insurer.  Mountain Laurel contended that its UM policy did not provide coverage in this case because the State had admitted it was a self-insurer and owned the allegedly uninsured vehicle.
In a case before the Fourth Circuit, the court stated, a similar argument to that set forth by the Chauncys was rejected.  Excluding UM coverage for self-insured vehicles does not violate public policy because self-insured status is not the same as being uninsured. In the case at hand, Mountain Laurel's UM exclusion for self-insurers did not violate the state public policy regarding insurance coverage. Public policy for UM coverage stems from the desire to provide coverage in situations in which an alleged tortfeasor is uninsured or not adequately insured.
The court stated the Chauncys did not demonstrate they would be able to meet their burden of proof against Mountain Laurel at trial. Therefore, the summary judgment motion in favor of Mountain Laurel was not in error.
The personal injury attorneys at Lavis Law provide guidance and representation to Louisiana car accident victims.  If you or a loved one has suffered injuries due to a negligent driver, contact our office for a free consultation. We can be reached by calling 866-558-9151 or using our online form.
More Blog Posts:
Louisiana Appellate Court Affirms Jury's Determination of Comparative Fault and Damages Award for Plaintiff in Multi-Vehicle Collision, Louisiana Injury Lawyer Blog
Louisiana Appellate Court Holds Rejection of Uninsured/Underinsured Motorist Coverage Remained Valid, Despite Addition of Two Subsidiaries to Renewed Insurance Policy, Louisiana Injury Lawyer Blog