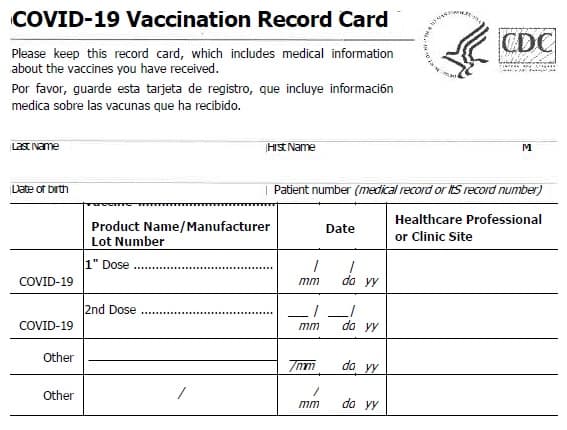 When you complete your vaccination shots, you will receive a Centers for Disease Control and Prevention (CDC) Covid-19 Vaccination Record Card. You should keep the card in a safe place as it will serve as proof of your vaccination in the near term. In the not too distant future, some venues and destinations will require proof of vaccination against Covid-19. Digital vaccination passports may be used as an alternative to the paper card.
Digital vaccination passports are being designed to prove vaccination status in a secure & private way. You will soon be able to carry a digital vaccine credential wherever you go. Clear and IBM are designing a digital Health Pass tool to prove inoculation or recent negative Covid tests. The tool promises to help avoid crowds, waits at airports, stadiums, and other venues.
What is a Covid-19 Vaccination Record Card?
The vaccine card provides the medical information about the vaccine you received. It includes your last name, first name, date of birth as well as your product name, manufacturer and lot number of your 1st Does vaccine as well as the same information about any second dose.
How to Get a Replacement Vaccination Card?
If you lose your vaccination card, there are several options for requesting a copy of your vaccination records in Louisiana:
Option 1: Register for LA.MyIR.net
Signing up for LA MyIR provides Louisiana residents the ability to access, review, and print your family's official vaccination records without requesting them from a doctor.
Option 2: Ask your healthcare provider for a copy. Louisiana has had an Immunization Information Sytem (IIS) called LINKS, since 2001. Most Louisiana providers performing vaccinations enter data into LINKS.
Option 3: Ask the local Parish Health Unit (PHU) for a copy – click here for PHU contact information.
Option 4: Complete the Office of Public Health Immunization Program's online form to have vaccination records sent to you via traditional mail. Click here to access the online request form.
How to Protect Your Card?
You can take a photograph of it or even laminate it for free at Staples or Office Depot. However, keep in mind that laminating the card may damage the card in the process. Also, you will not be able to add any upcoming booster shot info to the blank spaces below the first and second dose information.
Do I need my card to travel?
At present airlines are not requiring vaccinations. However, some cruise lines like Royal Caribbean will require vaccination of passengers 18 and older once US Cruises start operating out of US Ports.
Will the U.S. Government require a passport?
The US Government is not involved in passing any regulation requiring a vaccine passport or in generating its own.
What is LA Wallet?
LA Wallet is Louisiana's Legal Digital Driver's License that is 100% Legal for driving purposes per Louisiana law of Act 625 of the 2016 season. It can also serve as a
Digital COVID-19 Vaccine Verification
Information for
Those Who Opt-In.
Sources :
https://lawallet.com/covid19/
https://lawallet.com/covid-19/
https://www.nytimes.com/article/covid-vaccine-card.html
https://ldh.la.gov/index.cfm/page/3641
https://www.detroitnews.com/story/travel/2021/04/05/what-vaccine-passport-and-you-need-one-travel/4834426001/