Old American Indemnity Company
Old American Indemnity Company
is located is domiciled at 250 West Main Street, Suite 2300Lexington, KY 40507-1758 and has offices at 14675 Dallas Parkway Suite 500 Dallas, TX 75254 and its policies are administered by
Blue Fire Insurance Services
, P.O. BOX 143249 IRVING, TX 75014-3249 PHONE: (866) 424-9511 FAX: (866) 424-9510.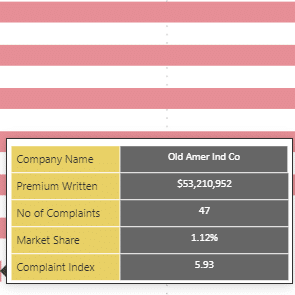 Old American Indemnity Company specializes in nonstandard private passenger automobile insurance in multiple states.
In 2020, 47 complaints were filed against Old American Indemnity Company with the Louisiana Insurance Commissioner and in 2019, 56 complaints were filed.
Old American was among the top ten Automobile Private Passenger insurers with the highest Louisiana complaint index.  Its complaint index for 2020 was 5.93, a complaint index of 1 is average.  Check out how the other Individual Private Passenger Auto Insurers fared at the interactive chart above or at this 
Louisiana Insurance Commissioner Consumer Complaint Index Article.
If you are involved in an accident with anOld American Indemnity Company driver and your claim has been denied or delayed, an experienced car insurance lawyer can ensure your rights are protected when filing an insurance claim. We care about your best interests and stand in your corner.