Most Dangerous Algiers Car Accident Intersections
Dangerous Intersections In Algiers 
Louisiana auto accidents injured 72,543 people and killed 98 in 2019. In Orleans Parish, the amounts are 10,395 and 42, respectively. Algiers has its fair share of accidents.
From the Heatmap, you can see some of the most common car accident intersections in Algiers that you may want to avoid.
2020 Algiers Dangerous intersections 
Try to avoid these areas around Algiers:
Shirley Dr & General Meyer
Newton & Whitney Avenue/L.B.Landry Avenue
General Meyer Avenue & Kabel Dr
Several Intersections Along General De Gaulle Dr including General De Gaulle at Westbank Expressway, Mar Avenue, Shirley Dr, Westbend Pkwy, Berman Pl, Kabel Dr/Lennix Blvd, and Woodland Dr
In addition to avoiding car accidents, drivers can take the following precautions to prevent accidents and related injuries:
Do Not Drink Alcohol & Use Drug While Driving
Do Not Speed
Do Not Text While Driving
Do Not Drive Aggressively (includes failing to yield, following too closely, cutting in/improper passing, disregarding traffic control and careless operation).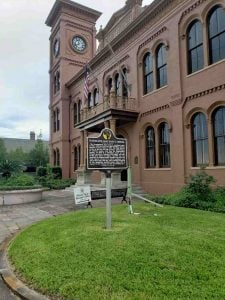 Algiers Courthouse, Algiers Point, Louisiana
Not all accidents can be avoided. If you happen to get in a car accident, there are certain steps that you should take immediately following the accident including:
Photograph the IDs of all parties involved in the accident, including drivers, passengers, and other witnesses.
Photograph registration and insurance information.
Take pictures of the overall accident scene if you are able to. Think overview of the intersection, overview of all sides of all cars involved, and also close-ups of damages of all vehicles involved.
Call the police and do not leave the scene of the accident unless it is due to a medical emergency.
Make a report to the police of what happened;
Do not apologize after the accident;
Do not state how you physically feel as sometimes injuries and associated symptoms take time to develop. Of course, if you are seriously injured, take an ambulance to the hospital.
Get medical treatment.
Do not give a recorded statement to any insurance company.
Do not sign authorizations for medical treatment.
Call Lavis Law Firm at 504-834-4000 or Contact Us Online – for a FREE CASE REVIEW. We work on a NO RECOVERY-NO FEE Basis. You do not owe us any fee if we do not recover money for you. Our car accident attorneys are here for you!

View Of City Of New Orleans From Algiers Point
Why Hire a Algiers Car Accident Lawyer Near You?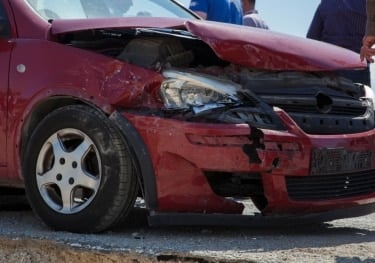 You may have already discovered that the car insurance company is trying to provide you with a low-ball offer instead of fair compensation for your Algiers car accident.  Lavis Law Firm – Personal Injury & Accident Attorney can help you calculate and present your
property damage
 and bodily injury claims including those for wage loss, loss of earning capacity, and the not so easily quantifiable 
general damages
 claims for pain and suffering.
Algiers Car Crash Attorney Fighting for fair Compensation
Lavis Law Firm – Personal Injury & Accident Attorney is a 
New Orleans car accident attorney
 that can provide nearby help with any applicable past, present, and future medical bills and related healthcare and lost wages.  While money cannot put you in the same condition you were in before the accident, money is what our judicial system provides for and can help provide you with a sense of closure so that you can move on with your life.
Contact an Experienced Algiers Accident Lawyer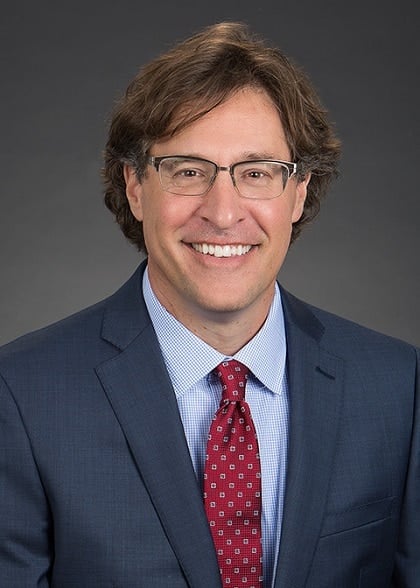 If you suffered personal injuries or property damage in a Algiers car accident near you, you may be facing important legal deadlines. Lavis Law Firm – Personal Injury & Accident Attorney will discuss your claim with you immediately. If we agree to handle your case, we will do so on a contingency fee basis. No fee is owed if there is no recovery. You only pay if we win your case. For a FREE CASE REVIEW, contact a New Orleans auto accident attorney at 504-226-5502 or email us .
Auto Accident Statute of Limitations in Louisiana (known as Liberative Prescription)
Art. 3492 provides: Delictual actions are subject to a liberative prescription of one year.  This prescription commences to run from the day injury or damage is sustained.  It does not run against minors or interdicts in actions involving permanent disability and brought pursuant to the Louisiana Products Liability Act or state law governing product liability actions in effect at the time of the injury or damage.
However, keep in mind La. R.S. 9:5629 provides: Actions for the recovery of damages sustained in motor vehicle accidents brought pursuant to Uninsured Motorist provisions in motor vehicle insurance policies are prescribed by two years reckoning from the date of the accident in which the damage was sustained.
Call a Top Rated Algiers Car Accident Lawyer
Contact an experienced New Orleans car accident law firm near you. Charles Lavis has been handling car accident and personal injury lawsuits in the New Orleans area since 1995. Throughout his legal career, Charles has represented workers, consumers, homeowners, and business owners against insurance companies and corporations. He represents clients who have been injured due to the negligence of others.