BEST Venetian-Isles Car Accident Lawyer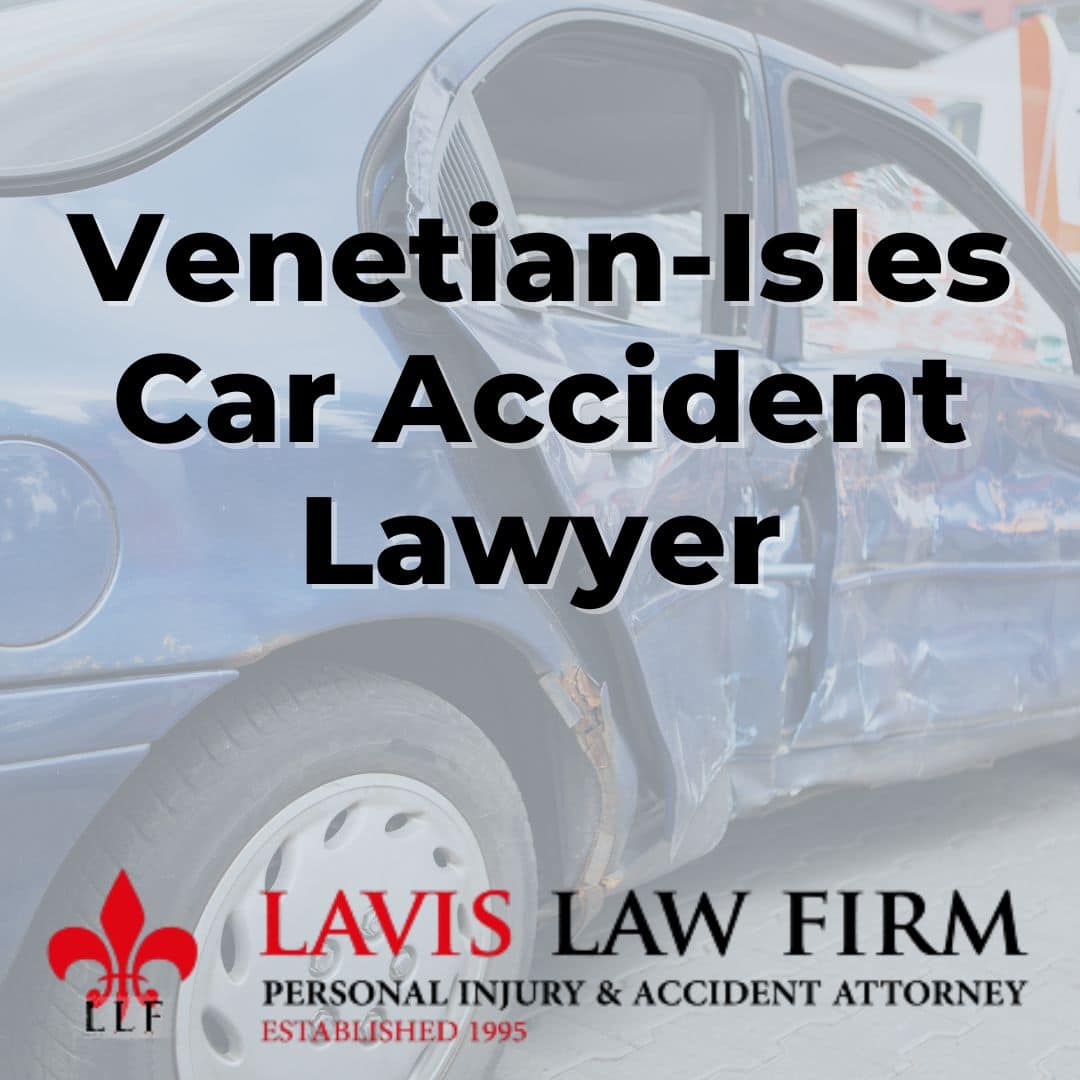 Set away from the downtown hustle and bustle of New Orleans,
Venetian-Isles
is a small neighborhood defined by its proximity to the waterways of New Orleans. This collection of waterfront homes boasts lots with docks for its residents and the western shore of the 
Chef Menteur Pass
.
Running along the northern side of US-90, this laid back area can still see its fair share of
car accidents
. If you have been involved in a car accident in Venetian-Isles, it is important to reach out to an
experienced car accident lawyer
near you for a free case consultation.
Below we have created a map of accident hotspots within the
French Quarter
.
---
On This Page
Venetian Isles Personal Injury Attorney
Lavis Law Firm – Personal Injury & Accident Attorney is a New Orleans car accident attorney that can provide nearby help with any applicable past, present, and future medical bills and related healthcare and lost wages after a Venetian Isles car accident.  While money cannot put you in the same condition you were in before the accident, money is what our judicial system provides for and can help provide you with a sense of closure so that you can move on with your life. You may have taken a few steps on your own like ordering the accident report from the New Orleans Police.  You have discovered that the car insurance company is giving you the run-around on your New Orleans Venetian Isles car accident.  Hire
Lavis Law Car Accident Law Firm, Personal Injury and Accident
 Attorney and let us help you calculate and your claims for property damage total loss and diminished value and also assist with claims for bodily injury including claims for lost wages, earning capacity and pain and suffering. The Consultation is Free. We work on a contingency fee basis and handle the below types of New Orleans car accidents and more.
The Danger of Venetian Isles Car Accidents
Car accident injuries can be serious and sometimes deadly. Trauma from car accidents is a leading cause of death among all age groups, but especially young people. Car accidents are also a top cause of traumatic brain injury, spinal cord damage and other serious or even permanent harm to your health. When a car accident occurs, it is important to determine who was at fault for the collision. If someone else was at fault, a Venetian Isles car accident lawyer can help you to pursue a claim and obtain compensation. Lavis Law has extensive experience representing injured clients and we can put our legal knowledge to work on your accident case. Call today to speak with a member of our legal team for a free evaluation of your claim.

How a Venetian Isles Car Accident Lawyer Can Help You
When you pursue a claim for compensation after a New Orleans Venetian-Isles car accident, you must determine who to take legal action against. It is common for automobile accident victims to sue another driver who was responsible for the accident because he drove dangerously. However, a negligent motorist may not be the only party to blame. You could also take legal action against the driver's employer if he was on the job, the manufacturer of a defective car or its parts, or even road designers or those responsible for road maintenance if there was a problem with the road. A car accident lawyer in the New Orleans Venetian-Isles will assist you in determining who was to blame for your wreck. Your attorney will then file a personal injury or wrongful death lawsuit against the defendants who are liable to you for your losses.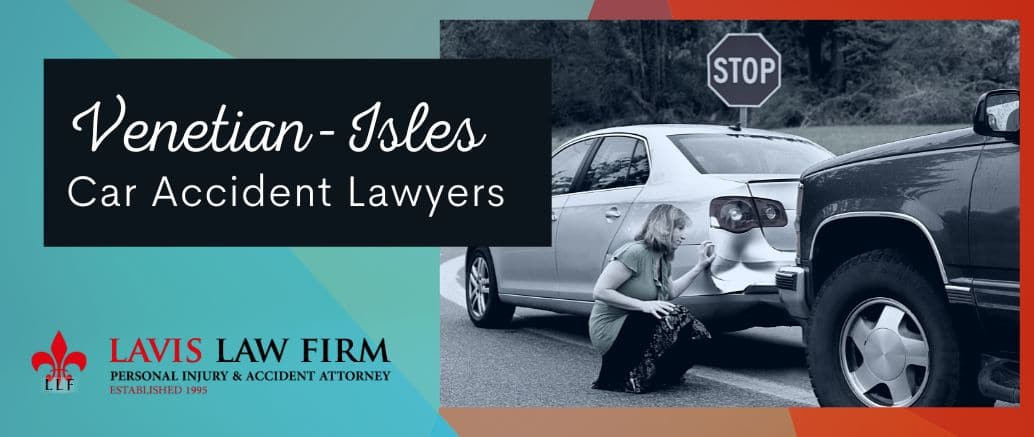 Resolving a Car Accident Case in New Orleans Venetian-Isles
While some car accident claims are resolved in court, many cases end up settling before they go to trial. If the defendant's insurance company accepts that the policyholder is at fault for the collision, the insurer may wish to negotiate to pay you compensation for losses in exchange for your giving up your right to sue. Insurance companies sometimes try to pressure claimants to settle for less than the total amount of money they deserve. You should not accept an inadequate settlement, especially without talking to a New Orleans Venetian Isles car accident lawyer near you. Once you have agreed to settle your case, you cannot change your mind. In exchange for the payout of compensation, you will need to sign a waiver of liability. A Venetian Isles car accident lawyer at Lavis Law can and can help you determine the value of your case and negotiate with the insurer on your behalf to help get a fair settlement. If no settlement agreement is possible, you will be represented in court by a top-notch legal professional with litigation experience.

Contact an Experienced Venetian Isles Car Accident Lawyer Near You
You don't deserve to face financial hardship because of a car accident that someone else caused. Call Lavis Law today to speak with a New Orleans Venetian Isles car accident lawyer who will do everything possible to ensure you are fully compensated for medical bills, lost income, pain and suffering, emotional distress or wrongful death.
Your consultation is free and you do not pay legal fees for representation unless we recover compensation for your car accident injuries.
Free Case Evaluation For Your Venetian-Isles Car Accident
If you have suffered injuries due to a car accident while in the Venetian-Isles area of New Orleans do not hesitate to contact us. The evaluation of your case is free. There is no cost and no obligation. Let Lavis Law Firm – Personal Injury & Accident Attorney get you the money you deserve. 
Submit
 your free case evaluation today. If you prefer, you may contact us at toll-free 1–866–289–2802 for your free evaluation.
New Orleans Venetian Isles Car Accident Lawyer Reviews​
"My experience with Lavis Law was a very nice one! My cases were handled swiftly and no complaints from me. Mr. Lavis was a very pleasant person when we finally got to meet in person due to the pandemic."
~ Kym J. 
Communities Served
We proudly serve all of the communities in the New Orleans area including Baton Rouge, Garden District, Lower 9th Ward, Uptown, the French Quarter, and more. To see a complete list, go to our Service Areas page.
Car Accident Repair Shops Near Venetian-Isles
TMC Auto Repair
4330 Laine Ave,
New Orleans, LA
(504) 274-9513
https://tmcautorepairshop.com/
Top Notch Performance Automotive
9734 Hayne Blvd,
New Orleans, LA
(504) 246-7880
P & K Auto Services
14780 Chef Menteur Hwy,
New Orleans, LA
(504) 254-3580
Leo's Auto Repair
4624 Downman Rd,
New Orleans, LA
(504) 338-5851
Chef auto express
4456 Chef Menteur Hwy,
New Orleans, LA
(504) 827-1197
http://www.chefautoservices.com/