BEST Village-de-l'Est Car Accident Lawyer Near You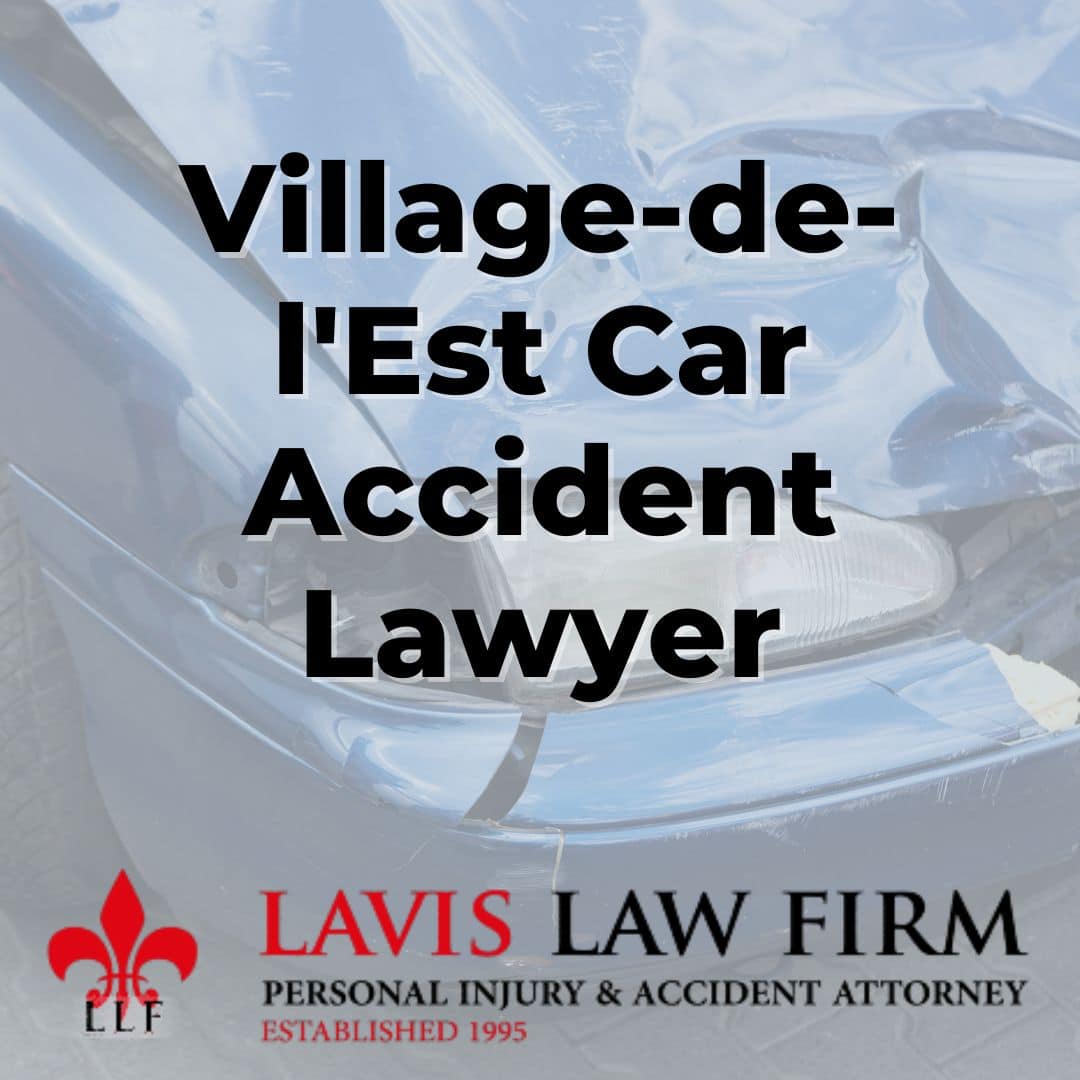 Village De Lest is a neighborhood in New Orleans, Louisiana with a population of 9,297. Village De Lest is in Orleans Parish. Living in Village De Lest offers residents a sparse urban feel and most residents own their homes. Many families live in Village De Lest and residents tend to be liberal.
Village de l'Est is known for its Vietnamese community. The Vietnamese community is also known as Versailles, as its earliest migrants, who arrived in the years after 1975, settled first in the Versailles Arms apartment complex. The commercial hub for this community extends along Alcee Fortier Boulevard, within Village de l'Est. This area of New Orleans East is also home to the locally popular Vietnamese Farmers' Market.
There was an increase in housing units between 1980 and 1990, even though the city averaged a slight decline during that same time period.
Small commercial establishments flank the Chef Menteur Highway. Sarah T. Reed High School and Village de l'Est Elementary are two of the public schools in the area.
Tourists can create a lot of traffic issues since they are navigating roads they are unfamiliar with. This, coupled with the narrow streets of the Village-de-l'Est can create a lot of potential for car accidents, especially at intersections where visibility could be low or pedestrians having fun and not paying attention can easily step out into traffic.
On This Page:
Village-de-l'Est Accident Stats
Village-de-l'Est Car Accident Lawyer
Lavis Law Firm – Personal Injury & Accident Attorney is a New Orleans car accident attorney that can provide nearby help with any applicable past, present, and future medical bills and related healthcare and lost wages after a Village-de-l'Est car accident.  While money cannot put you in the same condition you were in before the accident, money is what our judicial system provides for and can help provide you with a sense of closure so that you can move on with your life.
You may have taken a few steps on your own like ordering the accident report from the New Orleans Police Department.  You have discovered that the car insurance company is giving you the run-around on your Village-de-l'Est car accident.  Hire Lavis Law Car Accident Law Firm, Personal Injury and Accident Attorney and let us help you calculate and your claims for property damage total loss and diminished value and also assist with claims for bodily injury including claims for lost wages, earning capacity and pain and suffering.   The Consultation is Free.  We work on a contingency fee basis and handle the below types of New Orleans car accidents and more. 
The Danger of Village-de-l'Est Car Accidents
Car accident injuries can be serious and sometimes deadly. Trauma from car accidents is a leading cause of death among all age groups, but especially young people. Car accidents are also a top cause of traumatic brain injury, spinal cord damage and other serious or even permanent harm to your health. When a car accident occurs, it is important to determine who was at fault for the collision. If someone else was at fault, a Village-de-l'Est car accident lawyer can help you to pursue a claim and obtain compensation. Lavis Law has extensive experience representing injured clients and we can put our legal knowledge to work on your accident case. Call today to speak with a member of our legal team for a free evaluation of your claim.

How a Village-de-l'Est Car Accident Lawyer Can Help You
When you pursue a claim for compensation after a Village-de-l'Est car accident, you must determine who to take legal action against. It is common for automobile accident victims to sue another driver who was responsible for the accident because he drove dangerously. However, a negligent motorist may not be the only party to blame. You could also take legal action against the driver's employer if he was on the job, the manufacturer of a defective car or its parts, or even road designers or those responsible for road maintenance if there was a problem with the road. A car accident lawyer near the Village-de-l'Est will assist you in determining who was to blame for your wreck. Your attorney will then file a personal injury or wrongful death lawsuit against the defendants who are liable to you for your losses.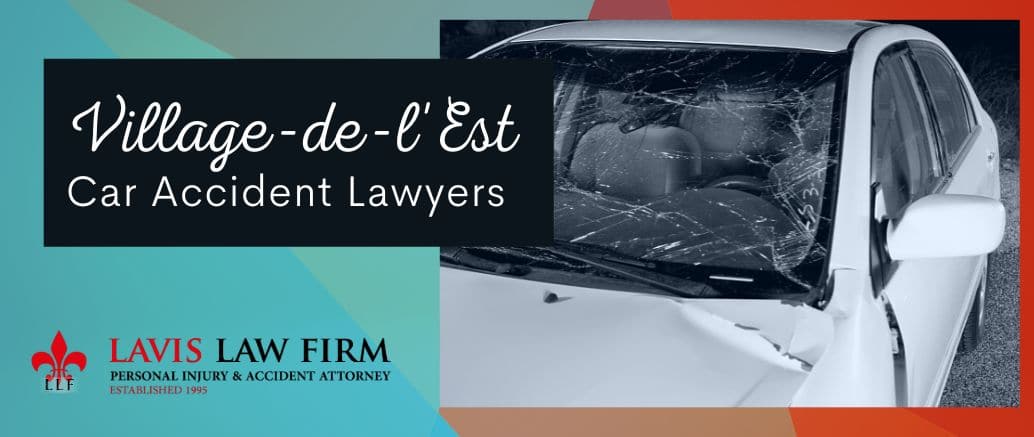 Resolving a Car Accident Case in Village-de-l'Est
While some car accident claims are resolved in court, many cases end up settling before they go to trial. If the defendant's insurance company accepts that the policyholder is at fault for the collision, the insurer may wish to negotiate to pay you compensation for losses in exchange for your giving up your right to sue. Insurance companies sometimes try to pressure claimants to settle for less than the total amount of money they deserve. You should not accept an inadequate settlement, especially without talking to a Village-de-l'Est car accident lawyer near you. Once you have agreed to settle your case, you cannot change your mind. In exchange for the payout of compensation, you will need to sign a waiver of liability. A Village-de-l'Est car accident lawyer at Lavis Law can and can help you determine the value of your case and negotiate with the insurer on your behalf to help get a fair settlement. If no settlement agreement is possible, you will be represented in court by a top-notch legal professional with litigation experience.
Free Case Evaluation For Your Village-de-l'Est Car Accident
If you have suffered injuries due to a car accident while in the Village-de-l'Est of New Orleans do not hesitate to contact us. The evaluation of your case is free. There is no cost and no obligation. Let Lavis Law Firm – Personal Injury & Accident Attorney get you the money you deserve. Submit your free case evaluation today. If you prefer, you may contact us at toll-free 1–866–289–2802 for your free evaluation.
Village-de-l'Est Car Accident Lawyer Review
"My experience with Lavis Law was a very nice one! My cases were handled swiftly and no complaints from me. Mr. Lavis was a very pleasant person when we finally got to meet in person due to the pandemic."
~ Kym J. 
Communities Served
We proudly serve all of the communities in the New Orleans area including Baton Rouge, Garden District, Lower 9th Ward, Uptown, the Warehouse District, and more. To see a complete list, go to our Service Areas page.
Car Accident Repair Shops Near Village-de-l'Est New Orleans
P & K Auto Services
14780 Chef Menteur Hwy,
New Orleans, LA
(504) 254-3580
BAC of New Orleans Inc
13900 Chef Menteur Hwy,
New Orleans, LA
(504) 254-0207
Nissan Service
13050 I-10 Service Rd,
New Orleans, LA
https://www.nissanusa.com/
Premier Honda Service
11801 I-10 Service Rd,
New Orleans, LA
(504) 702-1618
https://premierhonda.com/service
Lee Auto Repair
9700 Chef Menteur Hwy,
New Orleans, LA
(504) 246-1001