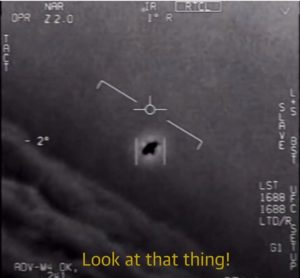 They  both begin with the letter "U" and were both part of the COVID-19 Relief law signed by President Trump earlier this month.  The law deals with many subject matters including a $300 federal unemployment supplement and the release of an unclassified report about U.F.O.s near U.S. military bases. If you don't believe U.F.O.s are part of the law, you are welcome to fact check it yourself.
LOUISIANA UNEMPLOYMENT PLUS THE $300 PER WEEK SUPPLEMENT
The January 2021 COVID 19 Bill recently passed by Congress and signed by the President includes a $300 federal supplement for those that are receiving Louisiana Unemployment Benefits.   This supplement may be available to Unemployment Compensation Recipients for up to 11 weeks in addition to regular weekly unemployment benefits of up to $247 per week for a maximum potential payment of $547 per week.   Therefore, if:
Your work hours have been reduced because of lack of work due to Coronavirus.
Your workplace closes temporarily, and you are not being compensated. OR
You have been instructed not to go to work, and you are not being paid while at home.
You MAY be eligible for unemployment insurance including the federal supplement. You can file a claim at www.louisianaworks.net/hire or by calling the Louisianan Department of Labor Claim Center at 866-783-5567.
Also, as part of the COVID-19 law, the U.S. government is looking to inform the American people about potential national security threats from Anomalous Aerial Vehicles and to encourage scientists to look into this phenomena.
WHAT ARE ANOMALOUS AERIAL VEHICLES?
Anomalous Arial Vehicle is a term that the Navy uses to describe U.F.O.   Just before the pandemic began in 2020, the Pentagon released some fascinating video of Navy encounters with U.F.O.s.
According to the COVID-19 law, the Pentagon and U.S. spy agencies have 180 days to reveal through an unclassified report what they know about the sightings of unidentified flying objects near U.S. military bases and what threats they may pose.  At this point, it is unclear whether it is related to activity by Aliens, the Chinese, Russians, or other Country or has some other explanation.
Specifically, the law states –
Therefore, the Committee directs the DNI, in consultation with the Secretary of Defense and the heads of such other agencies as the Director and Secretary jointly consider relevant, to submit a report within 180 days of the date of enactment of the Act, to the congressional intelligence and armed services committees on unidentified aerial phenomena (also known as "anomalous aerial vehicles"), including observed airborne objects that have not been identified.
U.F.O. SOURCES:
https://www.thesun.co.uk/tech/13717920/cia-declassified-ufo-documents-online-black-vault/
https://www.krqe.com/news/space-news/u-s-intelligence-officials-have-180-days-to-release-information-on-ufos/
https://www.nytimes.com/2020/04/28/us/pentagon-ufo-videos.html
https://www.defense.gov/Newsroom/Releases/Release/Article/2165713/statement-by-the-department-of-defense-on-the-release-of-historical-navy-videos/
https://www.navair.navy.mil/foia/documents
LOUISIANA UNEMPLOYMENT INSURANCE RESOURCES: