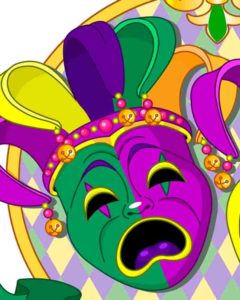 New Orleans is famous for Mardi Gras.  Fat Tuesday is often seen as a time to celebrate and overindulge before the Lenten season.  Success of a New Orleans Mardi Gras is often measured by the amount of alcohol and food consumed and by the number of tons of trash collected during the parade season, 1,200 tons in 2018.   New Orleans Mardi Gras also helped set the  record breaking year for tourism in 2017 with visitors coming from across the United States but primarily from within Louisiana and from Texas, Mississippi, California, Florida and New York.
Along with the increase in visitors to the City looking for a good time, comes an increase in the number of Car Accidents.    A 2019 study conducted using Accident Report data provided by the New Orleans Police Department, City of New Orleans shows an increase in traffic accidents in the two week period leading up to Mardi Gras of  17.8% (2018),  39.6% (2017) and 7.26% (2016) over the same two week period a year earlier (that does not including the two week period leading up to Mardi Gras).  The Saturday before Mardi Gras is the most active day for New Orleans Mardi Gras car accidents with 136 in 2017, the record setting year for tourism, and 126 in 2018.  Learn more about the locations and number of accidents each day by hovering your mouse (or on mobile, your finger) over the interactive maps and graphs below to explore the data. 
Where Do Mardi Gras Car Accidents Happen?
Mardi Gras 2018 (1084 Accidents Over 14 Days), 17.8% Increase Over 2017 Comparison.
 2017 Comparison- No Mardi Gras (920 Accidents Over 14 Days)
Mardi Gras 2017 (1349 Accidents Over 14 Days),39.6% Increase Over 2016 Comparison.
2016 Comparison- No Mardi Gras (966 Accidents Over 14 Days)
Mardi Gras 2016 (1049 Accidents Over 14 Days) , 7.26% Increase Over 2015 Comparison.
2015 Comparison-No Mardi Gras (978 Accidents Over 14 Days)
Other Mardi Gras/Parade Safety Considerations
In addition to typically Mardi Gras safety considerations like keeping track of your group by planning a meeting spot and saying something to the New Orleans Police about any suspicious activity you may see, you should also  consider Ubering to the parades, especially if you plan having a couple of drinks.
Finally, if you are a tourist and you discover you need a New Orleans Car Accident Lawyer while in town (or after your return home), or are a local New Orleanian finding you need a little help recovering from Mardi Gras, contact Lavis Law Firm – Personal Injury & Accident Attorney for a FREE CONSULTATION about all of your legal matters.    We'll be here for you after all of the tons of trash have been collected and weighed, we have over 23 years of experience.